Company Profile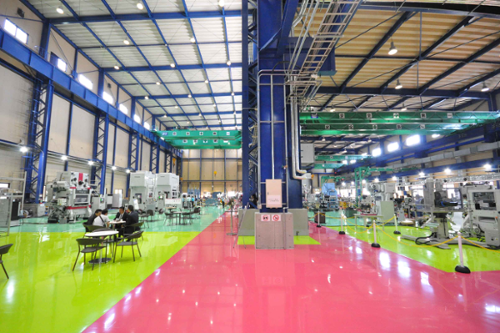 HISTORY
Ever since Yamada Dobby was established in 1919, there have been constant efforts to offer excellent machines supported by the best service in the industry. Our innovative technology has led the textile industry with high performance Dobby and Cam Motion Equipment supporting the continually expanding fashion industry throughout the world.
We have, and continue to develop Dobby and Cam Motion Equipment of the highest performance, challenging the industry for higher speed, precision, and quality. Yamada has also led the way in computerizing textile weaving equipment with the latest electronics available, contributing to the innovation of the industry.
Yamada High Precision Press Machines have been working with remarkable results in the production of minute parts of high precision since 1961. Such parts include lead frames, connectors, motor cores and television set components. We carry on the Yamada tradition of unprecedented technological development with our latest NXT-Press Series line of stamping presses. Together with our research and development teams, Yamada will continue to develop successive machines of higher quality and functions.
RESEARCH AND DEVELOPMENT
Our Research and Development Department is constantly designing new systems to meet the diversified user needs. Our efforts have resulted in a number of patents being awarded to Yamada. As of this printing, Yamada's R / D department has been awarded two hundred twenty-five Japanese and overseas patents. Currently, there are sixty-four patents pending.
LEADING THE WAY
Yamada Dobby has always been on the leading edge of technology. We are committed to bringing our customers the newest sharpest machinery available. Cameras, videos, integrated circuitry and computers have readily enriched our lives. These products may be said to hold the position as the foundation of the industrial world. Behind the scenes, yet playing a major role in the expansion of the ultramodern industrial world, stands precision stamping press machinery. Yamada is the clear leader of the Stamping Press Machine Industry. Our automated press production line is using today's newest computer systems and was officially recognized by the Japan Plasticity Academy as the world's number one system. This recognition allows Yamada to enjoy the limelight both in Japan and abroad as a 21st century production system.
INTERNATIONAL LOCATIONS
Being an international business requires Yamada Dobby to have many worldwide locations to serve our customers needs in the best possible manner. Our offices are located in Brazil, China, France, Germany, Italy, Japan, South Korea, Malaysia, Russia, Singapore, Thailand and the United States of America. No matter what your location, Yamada Dobby's skilled engineers and technicians will always be available to service your needs.
COMMITMENT TO THE CUSTOMER
The products of Yamada Dobby find their way to numerous customers throughout the world due to their superior design and performance. This unparalleled position in the global market could not be secured without a powerful network of after-sales service. Highly trained service personnel offer not only quick and reliable service, but also technical assistance including the proper installation and planning for improvement of work efficiency.